The
Bearded Collie Club of NSW

... Minutes of Meetings ...
General Meeting - 16th February 2003
MINUTES OF THE GENERAL MEETING OF THE BEARDED COLLIE CLUB OF NSW INC.
HELD SUNDAY 16TH FEBRUARY AT ERSKINE PARK
Meeting opened at 9.47 am
PRESENT:
L Brandt, P & K Finlayson, M Cogzell, A Moy, A Dillon
APOLOGIES: L Cogzell, A Innes
Moved M Cogzell, seconded A Moy that the apologies be accepted. CARRIED
MINUTES FROM DECEMBER GENERAL MEETING:
Moved M Cogzell , seconded P Finlayson
that the Minutes of the December General Meeting as tabled be accepted. CARRIED
BUSINESS ARISING:
Moved L Brandt, seconded A Moy that any Business arising be deferred until later in the Meeting. CARRIED
CORRESPONDENCE OUTWARDS:
A Dillon, S Roche, F Everingham—thanks for help at Show/dinner/seminar

P Hall enclosing contract for Property Classes at June Show

Allianz Aust—application for Certificate of Currency

RNSWCC enclosing Draft Schedule for June Champ Show

RNSWCC enclosing cheque & Certificate of Currency

M Sedgwick—thanks for hosting judge; request for copy of Powerpoint Presentation

Supercoat Petcare—thanks for 2002 sponsorship and asking for 2003

Border Collie Club of NSW re using their October NZ judge

M Sedgwick re Lochmoor trophy & CD
CORRESPONDENCE INWARDS:
The Dog Body re taildocking

OES Club re "United Working Dog Group Pointscore"

E Bladon thanking Committee for Dec Show/Dinner/Seminar

S Douglas re unable to come to show & copy of video

C Walkowicz re permission to use Powerpoint Presentation

J Georgiou re inability to come to seminar and copy of notes

RNSWCC re Walk Against Want

Metropolitan Mid-week DTC re Obedience Challenge

RNSWCC—approval for June Show

L Mehan offering drawing for use on Club's Letterhead

Border Collie Club re using their Oct judge

OAMPS re Workers Compensation Insurance

Chris & Ed Walkowicz—thankyou card

Canine Journal—Dec, Jan & Feb

WDC News

Bragabout
Moved A Dillon, seconded A Moy that the inwards correspondence be received and the outwards be
endorsed. CARRIED
BUSINESS ARISING: moved L Brandt, seconded P Finlayson that any Business arising be
deferred until later in the Meeting. CARRIED
TREASURER'S REPORT:
Nil Report. Meeting expressed concern that our Annual return to the RNSWCC & the Dept of Fair
Trading was still not completed. Secretary asked to contact the Treasurer and ask when the audited
Financial Statement will be ready.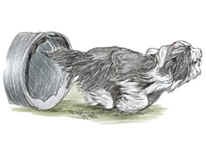 Home l Contents l Club Information l Breeders Directory l Brag Time l Club Events
Show Schedules l Show Results & Photographs l Minutes of Meetings l Links