The
Bearded Collie Club of NSW

... Minutes of Meetings ...

General Meeting - 6th August 2002

MINUTES OF THE GENERAL MEETING OF THE

BEARDED COLLIE CLUB OF NSW INC. HELD TUESDAY 6th AUGUST, 2002

Meeting opened at 8.06pm

PRESENT:

M & L Cogzell, A Moy, L Brandt,

P & K Finlayson

APOLOGIES: T Brack

Moved M Cogzell, seconded L Cogzell that the apologies be accepted. CARRIED

MINUTES FROM JUNE GENERAL MEETING: Moved M Cogzell, seconded P Finlayson that the Minutes of the June General Meeting as published in Beardie Business be accepted. CARRIED

BUSINESS ARISING: Moved L Brandt, seconded L Cogzell that any Business arising be deferred until later in the Meeting. CARRIED

CORRESPONDENCE OUTWARDS:

1. RNSWCC re Veterans in December

2. A Cowin – enclosing contract for 1/6/03

3. HL & FL Chambers – ribbon order for Oct Trial

4. Allianz – appln for Certificate of Currency re Workers Compensation

5. RNSWCC – enclosing certificate of Currency

6. RNSWCC – Appln for renewal of Affiliation & Insurance

7. RNSWCC – booking Ring No 2 for

1st June, 2003

8. St George Dist KC – enclosing cheque for airfare (June 2002)

9. Nor-West Canine Assoc booking ring for Picnic Day – 8/9/02

CORRESPONDENCE INWARDS:

1. June, July & August Journals

2. RNSWCC re veterans in December

3. RNSWCC re Workers Compensation Certificate of Currency

4. RNSWCC – approval for December Show

5. WDC July/Aug News

6. L Smith – Application for CD Trophy for Aust Ch Bonbon Freedom Fighter + pointscore scores

7. PAD – info re tail docking + seminar details for 9/7/02

8. RNSWCC – breeder's directory renewal

9. RAS re supporter's program

10. Allianz – Certificate of Currency

11. Dept FairTtrading – info for incorporated associations

12. Bragabout – April-June

13. RNSWCC – confirning booking for Rings 7 & 8 for 9/10/03

Moved P Finlayson, seconded M Cogzell that the inwards correspondence be received and the outwards be endorsed. CARRIED

BUSINESS ARISING: moved L Brandt, seconded A Moy that any Business arising be deferred until later in the Meeting. CARRIED

TREASURER'S REPORT:

Treasurer not present; cash/cheques in hand to be banked before books presented to auditor.

ACCOUNTS FOR PAYMENT:

1) RNSWCC – ground rental 2/6 22.00

2) L Brandt – 2x Ch & 2x Res trophies

for Dec show 52.00

3) L Cogzell – engraving 15.00

4) SPA Sportsware – sloppy joes (11) 284.90

5) M Sedgwick – 3 issues of Beardie Business, film & developing from Oct 2001 show 174.35

6) RNSWCC – breeder's directory renewal 66.00

Moved M Cogzell, seconded L Cogzell that the Treasurer's Report be accepted and the Accounts passed for payment. CARRIED

NEW MEMBERS: Mrs Joan Curtis from Balmain with Ruatha Knight's Quest

Nominated: Christine Morris,

Seconded : K Finlayson ACCEPTED

SHOW BUSINESS:

1) October Trial 13th October – 10.00am

Trial Manager/Secretary- Lynda Brandt;

Vetting (9.15am)- Ann Moy;

Catering- Merv, Lois, Tim F

Ann & Lynda to organise stewards & Rep; tables & chairs needed for official's lunch; Canteen has fridge & power

2) December Champ Show –

Judge: Chris Walkowicz;

Steward: Rhonda Ralphs;

RNSWCC Rep: Leigh Shanahan

Catelogue: Entries: Annette Inness Club pages: Lynda Brandt

Cover: Tim Finlayson Advertising: Tim Finlayson

Include Speciality winners for past 10 years; photo/resume of judge/advertising @ $10 per page (max. 2 photos); all in black & white

Judging order: 6pm - Parade of veterans, Dogs, Meal break (Seek catering), Bitches, General Specials, Presentations

3)Tea/Seminar: Sunday Night 8th December

5pm Tea for Beardie people with Chris – prepaid with entries (catered from outside)

7pm Seminar: "The Perfect Beardie - Judging, Exhibiting and Breeding the Beardie."

Supper - $5 at door includes supper (we cater)

Advertise: Karin to investigate cost of quarter page in Oz Dog

4) Shows 2003: June: Breed: Miss A Cowin

October Meeting to accept nominations for other judges for 2003

5) Point Score Winners 2001-2001:

Dog: Ch Bonibraes Wolfmans Image

Bitch: Gr Ch Keiramyst Lorna Doone

Obedience: Ch Bonbon Freedom Fighter CD

BUSINESS ARISING FROM PREVIOUS MEETING OR CORRESPONDENCE:

1)Beardie Business: Meeting agreed to a proposal to publish Beardie Business 4 times per year.
Issue

Date for info to Editor

Desired publication date

Spring

(published by incumbent editor

1st August

(except for information from August meetings

First week Sept

Summer

1st November

First week Dec

Autumn

1st February

First week Mar

Winter

1st May

First week June

(handed out at June Show then remainder posted)
2) Fundraising
(i) Raffle on Sunday at SSABKC Show in July profit $302.50
(ii) Catering for WDC Show (exhibitors) in Nov
(iii) December show raffle – grooming box – post out tickets with Spring BB ($2 each, 3 for $5)
3) Eye Clinic 2002 – Thursday 17th October in Gordon Douglas Pavilion
4) Website – Annette Inness has this under construction hosted by Tripod (for free); needs Club Info brochure, membership form & breeder's directory to be included.
5) BCC Breeder's Directory – from tonight this to be $10 annually(per membership year); details published on website & leaflet; members with puppies to have their details "flagged" for 3 months on website & Secretary will give out their name to phone enquiries; membership form to include signed permission from members for details to be published and given out.
5) Pal NSW Inter Club Obedience Challenge – Sat 27th July – an enjoyable day had by all; Sharon Roche to write a report to be published in Beardie Business
6) Picnic Day – 8th September – 1 ring + steward's room booked at Castle Hill; Grooming – Karin; Games – Tim & Ann; Lunch – Lynda; Prizes - Tim
7) Breeder's Directory Renewal with RNSWCC – approved with just Secretary's contact details
Meeting closed at 10.00pm
Meeting re-opened at 10.25pm
Request from AGM:
Secretary to write to G Baldock and ask if she is willing to remain the Archivist & ask if a clear copy of the drawing used on the Club letterhead is available to improve quality of letterhead.
Meeting closed at 10.26pm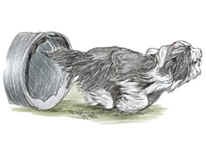 Home l Contents l Club Information l Breeders Directory l Brag Time l Club Events
Show Schedules l Show Results & Photographs l Minutes of Meetings l Links