The
Bearded Collie Club of NSW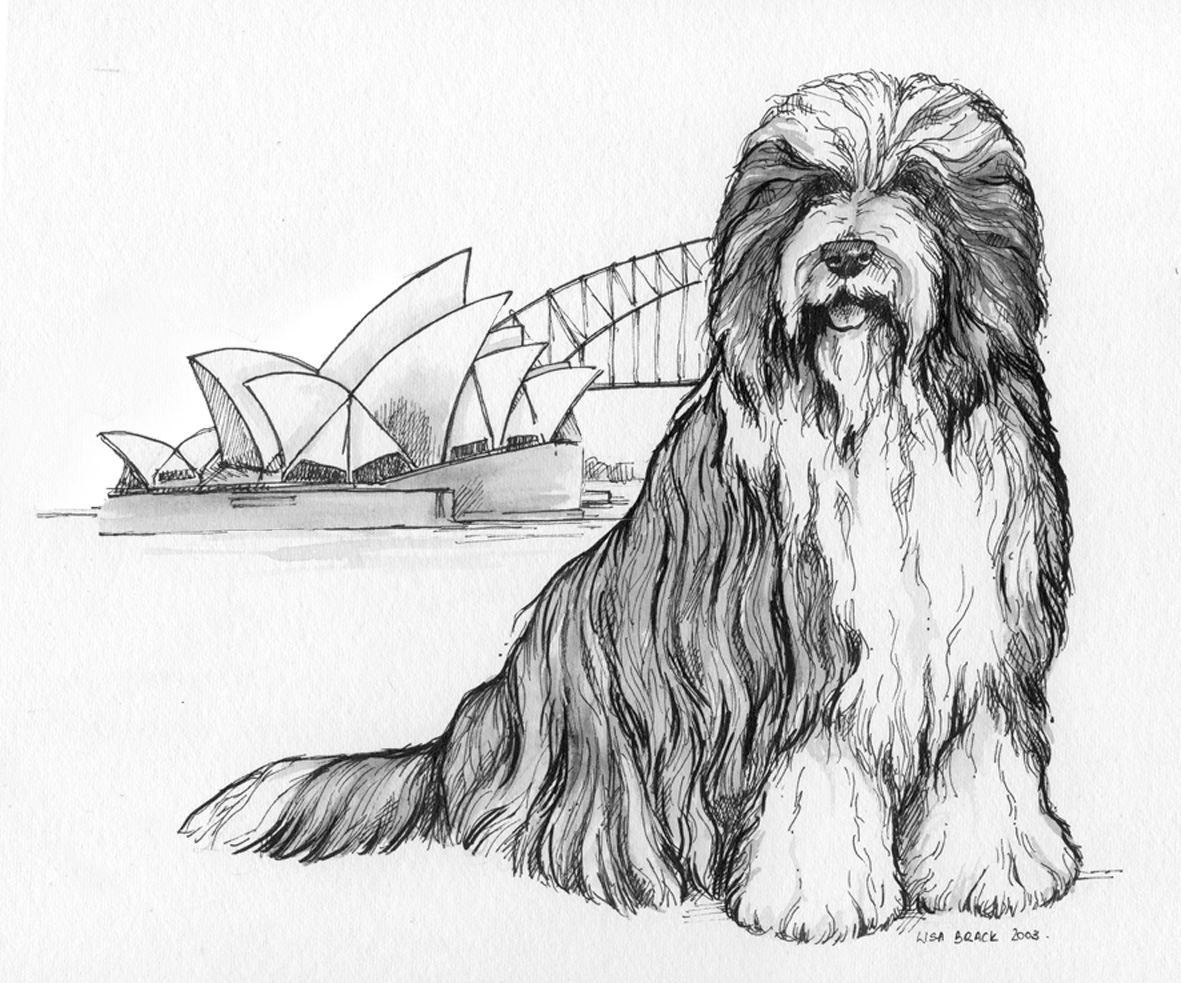 December 2002 Show Critique
I was honored to be invited to judge your specialty show. I appreciate the fact that you went to a great deal of trouble to change your dates to coincide with our trip. Your hospitality was superb. I very much enjoyed staying with Mia Sedgwick, as we have been corresponding frequently due to our association with the Bearded Collie Foundation for Health (BeaCon). She was a wonderful hostess, dedicated to showing us as much of your great country as possible in our short stay.
Beautiful dogs, friendly people, wonderful food, what more could one ask? My husband, Ed, and I were astounded at your grounds. What a great place for a show! Your trophies are gorgeous. We were absolutely speechless when you gave us the awesome portrait of our sweet Tootsie. (Sheís 15 on the 27th.) And to put her picture on the catalog. I had to choke back tears.
But first came the dogs -- lovely and bouncy and happy. Even the Parade of Veterans showed our oldsters to be happy and full of that wonderful joie de vivre, as old as 16 years of age! I find that Beardies are similar in the areas Iíve judged: the U.S., Australia, New Zealand, and Finland. I never look at a Beardie and say, ďIs this a ????Ē I always know itís a Beardie, and they all have those wonderful eyes that seem to look right into your soul. Overall, I was very pleased with the quality of the dogs Down Under.
Iím not sure what happened to my video and audio tapes -- I believe they may have been damaged by all the x-ray equipment at the airports -- but they are very poor quality, with the videos bouncing more than a Beardie, and the audio dragging more than a snail, so I canít understand what I said! I will do the best job I can with my faulty equipment and my memory, which is faulty as well!
Minor Puppy Dog
1. Ulara The Luck Dragon, S.M. Roche. Itís too bad there werenít more in the class, as this puppy should be very competitive as he grows. He had a well developed forechest for such a young age, good ribbing reaching far back in his body, nicely balanced both ends. He has a strong, full muzzle, proper earset and good pigmentation, giving him beautiful expression. A bit high in the rear.
Puppy Dog
1. Bonibraes Star Spangles, I. Van Coevorden. Nice headpiece, good level back. Well-balanced front and rear, with a little more front reach than the second. Iíd like to see a bit more length of body. Well-arched neck
2. Gleninca Fulmoondirtyhrt, L. Mehan. Lovely length of body. Good substance. He has great rear angles, but not as much layback in the shoulder.
Junior Dog
1. Briarmist Glenfiddich, J. Buckley & J. & L. Black. - A little less shoulder reach than the second puppy, but his withers are closer together, more correct. Lots of elegance, good croup. Lovely, dark, dark eyes.
2. Briarmist Glendronach, J. & L. Black. Very striking picture, a little better rear than front, but very nice both ends. Correct harsh coat, lovely topline, good length of body. Good muscle tone. Iíd like a darker eye on him, as his coat is so dark.
3. Shilston Future Passport, Shilston Kennels. Good strong headpiece and substance, very much a male. Nicely balanced, but does not extend quite as much on either end. A bit of a happy tail.
Intermediate Dog
1. Bonibraes Bound To B A Star, P.J. & K.J. Finlayson. Good broad backskull and muzzle in proper proportion, with dark pigmentation. Correct harsh coat. Level back and nicely balanced. RESERVE CHALLENGE DOG.
2. Brigadoon Editor Inchief, Brigadoon Kennels. Striking picture on the stand. A little flatter in croup, and therefore does not extend quite as well with his rear. Also a good masculine head, with a strong muzzle. Great length of body and coat texture.
Australian Bred Dog
1. CH Bonibraes Razzle Dazzle, E.A. Bladon. Good proportions, uses himself well on both ends. Nice moderate masculine Beardie without being overdone. I have no doubt he can herd all day long. Strong pigmentation, broad backskull. Good length of neck.
2. CH Bonibraes Díarq Sensation, L. Mehan & P. & K. Finlayson. Loved the substance on this dog, very masculine. Well-developed forechest, with good harsh coat. Lost to the first on front extension.
3. CH Bonibraes Rafertys Rules, P.J. & K.J. Finlayson. Elegant, long and lean, presenting a nice picture on the move. Iíd like to have a little more bone on him and his topline slants a bit. His tail is a bit too high set.
4. CH Keiramyst Ticket To Ride, L. Brandt. Good texture of coat, well-balanced. Clean coming and going. Would like to see a little more of him all over.
Open Dog
1. CH Oakcrest Rum Runner, A. Innes. Wonderfully flat topskull, strong muzzle and underjaw. Good level topline with smoothly rounded croup and correct tailset. Well-muscled brown boy. Beautiful reach and extension, strong mover. CHALLENGE DOG.
2. CH Shilstone Domination, Shilston Kennels. Took his placing on his good movement. Lovely croup and proper tailset. Elegant, flowing lines, rather than sharp angles.
3. CH Pastraka Sweet William, J. & L. Black. Good bone and sound topline. Excellent headpiece and correct harsh coat. I thought he would be my winner when I first saw him, but he didnít use his shoulder as well as the first two. Good tail carriage.
4. CH Brigadoon Our Pressmen, Brigadoon Kennels. A striking, good looking dog, but didnít use his front as well as his rear. Good flat topskull and strong muzzle. Well-formed croup.
5. CH Bonibraes Wolfmans Image, P.J. & K.J. Finlayson. Another handsome fellow who lost out on front reach. Wonderful pigmentation. This class was extremely deep in quality.
Veteran Dog
1. GR CH Bendale Sun Lover, J. & L. Black. Good expression and headpiece. Lovely croup and good length of ribbing. Not a bit of sag for 9+ years old! Would like a little cleaner coming and going. Won on his front reach.
2. CH Bonibraes Bedevilled, P.J. & K.J. Finlayson. Good substance, very masculine.
Both dogs were in wonderful shape for their age, with firm toplines. Coats of correct texture.
Minor Puppy Bitch
1. Briarmist Good Hevens, J. Buckley & J. & L. Black. Sweet, winsome expression. Happy, waggly little girl, elegant appearance. Lovely length with good ribbing. A little high in the rear at this stage. Well-angulated rear, could use a bit more layback of shoulder.
2. Briarmist Goodnsgracious, J. & L. Black. Better topline, but not moving out as well as the first. Also a lovely rear, but lifting a bit more in the front than the first bitch. Well rounded croups and good tailsets. Well-let down hocks.
Lots of elegance on both of these. Is there anything cuter than puppy girls?
Puppy Bitch
1. Briarmist Heaven Forbid, J. & L. Black. Lovely young girl with smooth lines and well-balanced. Proper length of body and well-bent stifles.
2. Gleninca Blakmagic Woman, L. Mehan. Nice headpiece and well-proportioned. Good coat texture. Would like a smoother croup and more front reach.
3. Bonibraes Movie Star, P.J. & K. J. Finlayson. Clean coming and going. Happy girl, but kept lowering her head on the move. A bit too low on leg.
These girls all had nice headpieces and expression. Would like to see more front reach on all of these girls.
Junior Bitch
1. Shilston Ticket To Future, Shilston Kennels. Strong back, level topline, moved out well. Good structure and headpiece and proper bone. Lovely croup. Would like to see better muscle tone on her. Clean coming and going.
2. Colard California Honey, R. & C. Stoate. Lacking in coat, but what there was is of good texture. Happy girl, with a great topline. A bit silly, causing her to lift more in the front. Nice bend of stifle and good length of body.
3. CH Colard The Captainís Daughter, R. & C. Stoate. Ultra feminine, elegant, with good topline and good reach. A bit too wound up tonight and pulling so that she came at me elbowing out. Beautiful pigmentation, a bit shorter in muzzle.
A lovely class I was able to nitpick, going with the best front reach.
Intermediate Bitch
1. CH Bonibraes Charm N Star, P.J. & K.J. Finlayson. CHALLENGE BITCH. Lovely black girl with lots of elegance. Not a lot of coat, but correct texture. Very feminine, with good reach and drive, well-balanced with well let-down hocks. Nice arch of neck and wonderful topline. Well-proportioned head with good expression. The longer she went, the better she moved.
2. Keiramyst Laura Ashley, L. Brandt. Good-sized girl with lots of bone and strong backskull, but a bit shorter in muzzle. Excellent pigmentation with correct harsh coat. A bit lacking in topline. Correct harsh coat. She was working way too hard to keep up.
Australian Bred Bitch
1. CH Bonbon Sterling Anivrsy, D. Ellwood. RESERVE CHALLENGE BITCH. Reaching out well, level topline, and good croup with proper tailset and carriage. Well-balanced, with great length of body and ribbing. Nice arched neck. Good pigmentation. Another feminine bitch that wasnít at all shelly.
2. Bonibraes Darq Devotion, M. Benedito. Pretty brown girl, with an excellent topline, but a higher set tail. Good substance, yet feminine. Lovely expression. Just lost to the first on front reach.
3. CH Stoddard Moraig, A. Innes. Good strong muzzle and backskull. Well-developed forechest and well-balanced. Harsh coat, lovely neck and good expression. Did not use what she had as well as the first two.
Open Bitch
1. NZ/Aust CH Llanddona Cinnamon Twist, P.J. Brooks & P.J. Douglas. Nice substance and good muscle tone. Lovely length of neck with a super topline. Good flat topskull and sweet expression. A nice picture standing and moving.
2. CH Bonbon Fifen Fiddle, D. Ellwood. All girl, nicely balanced. Good coarse coat. Also a good headpiece. Lost to the one with the better shoulder.
3. GR CH Oakcrest Chianti, J. & L. Black. Lovely style with first-class head and neck. Another proper coat. (I was pleased with your coat texture on most dogs!) Good tailset and beautifully rounded croup. She was working a bit too hard.
Veteran Bitch
1. NZ CH Llanddona Fenella, P.J. Brooks & P.J. Douglas. Smooth moving, belies her age of 11! A lovely flowing croup and tailset. Good headpiece. A bit dippy in topline at this age.
2. CH Burnhardt Charm N Devil, P.J. & K.J. Finlayson. I liked this girl, but seemed to be stressing as she was panting hard, perhaps due to a bit of ďchubbiness.Ē Lovely expression.
3. CH Shilston Captive Star, Shilston Kennels. This sweet lady was showing her age (and probably puppy bearing) a bit in the topline, but still moves well. Gorgeous Beardie expression. A little shorter in body length and also in muzzle.
Generally the things I look for are type, good expression, with a strong backskull and muzzle of proper lengths, good shoulder reach with a balanced rear, coat texture, flowing lines, muscle tone, proper tailset, level back, and bone with substance, i.e., not shelly. My winners look like they could work.
Most bites were good. As elsewhere in the world, the breed is not showing the ideal layback of shoulder and therefore lacks a bit in front reach. Pasterns and feet are strong. Most of the adults had good forechests. Although the breed should not have a prosternum that sticks out like a Corgiís, it should have some. Overall, I was very pleased with the quality of your dogs.
It was a pleasure to judge your show and your lovely dogs.